When purchasing our new home years ago, we decided on a 3 bedroom, with a master bedroom,  a home studio and the third to be a man-cave, that would turn into a nursery once the time came. Well, I got pregnant a few months after moving in making Trevor's dream man-cave unfulfilled.
For our nursery, we wanted our small space to feel clean, bright and yet invoke a magical feeling, but as we didn't know our baby's gender it was important to keep the space as neutral as possible.  Our goal for the room was to give Sterling a room that he would love to grow up in.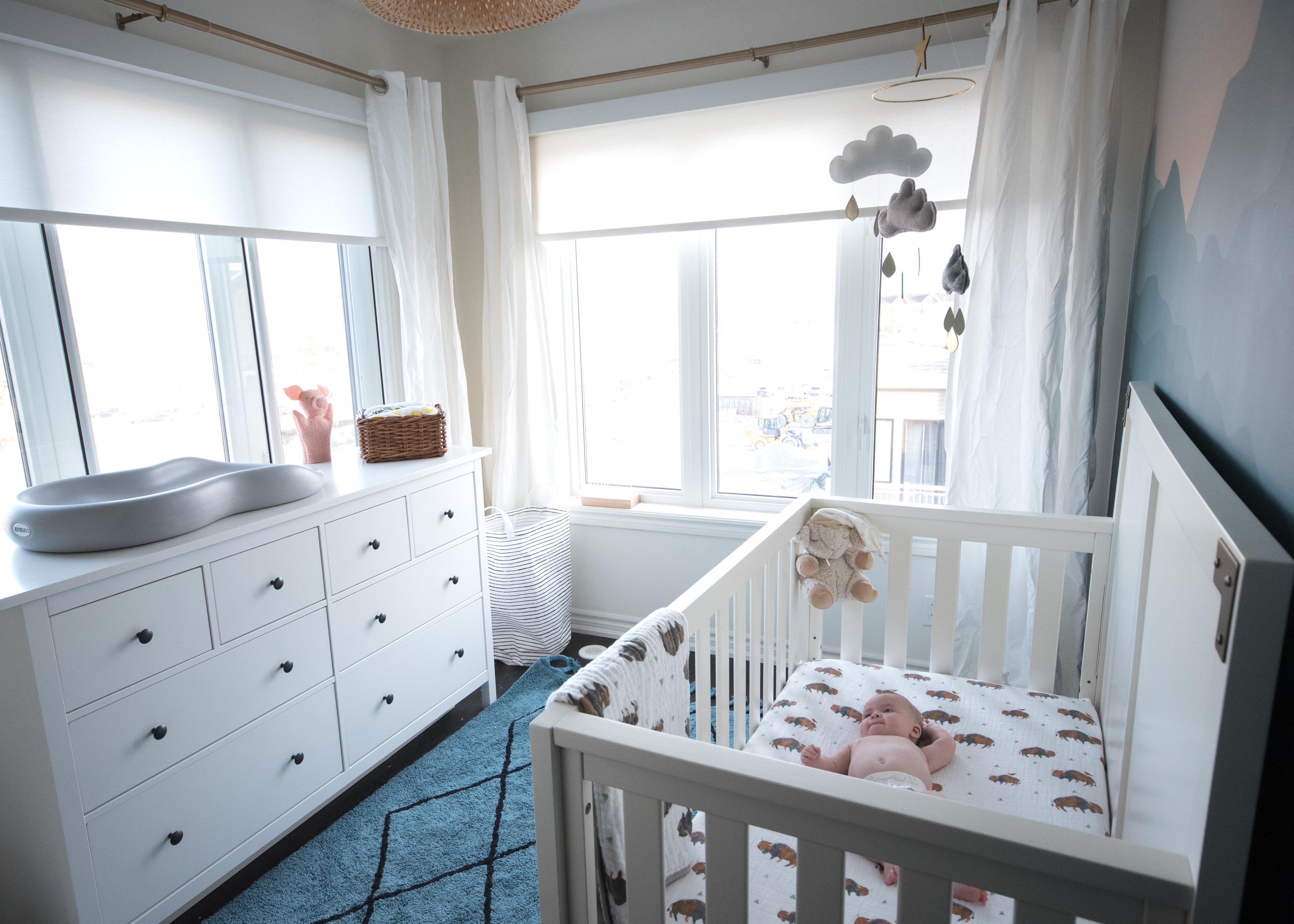 We started with the search for white furniture that would provide as much storage as possible (small space problems). When I came across the Baby Knightly Wyatt 3-in-1 convertible crib at West Coast Kids, I knew I had struck gold. I loved the simple and smart design of the solid wood crib, the brass metal accents and of course the storage trundle. It also has the ability to convert into a toddler day-bed and a full size bed, meaning we'd only be investing in one piece of furniture that would last for a longer period of time.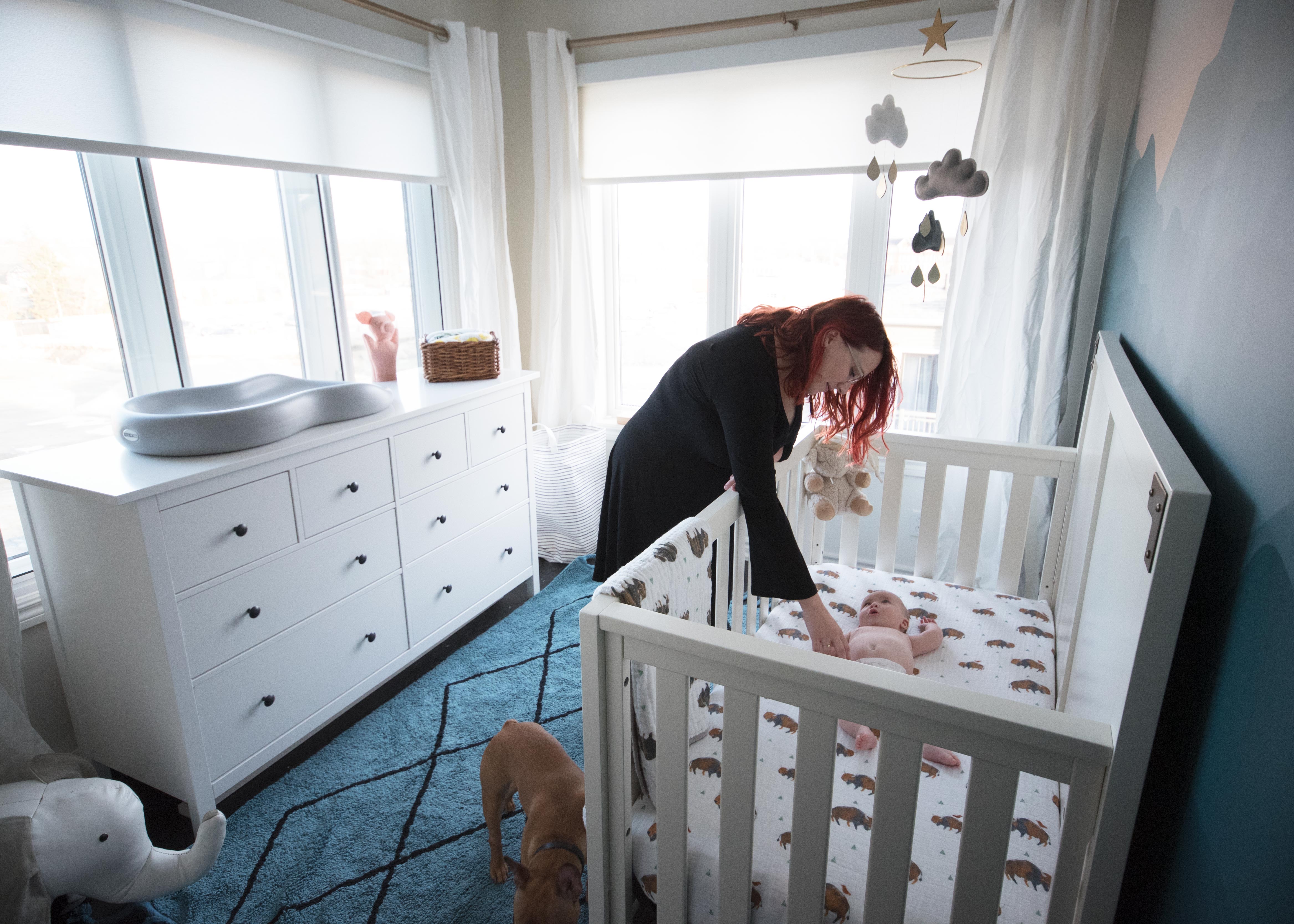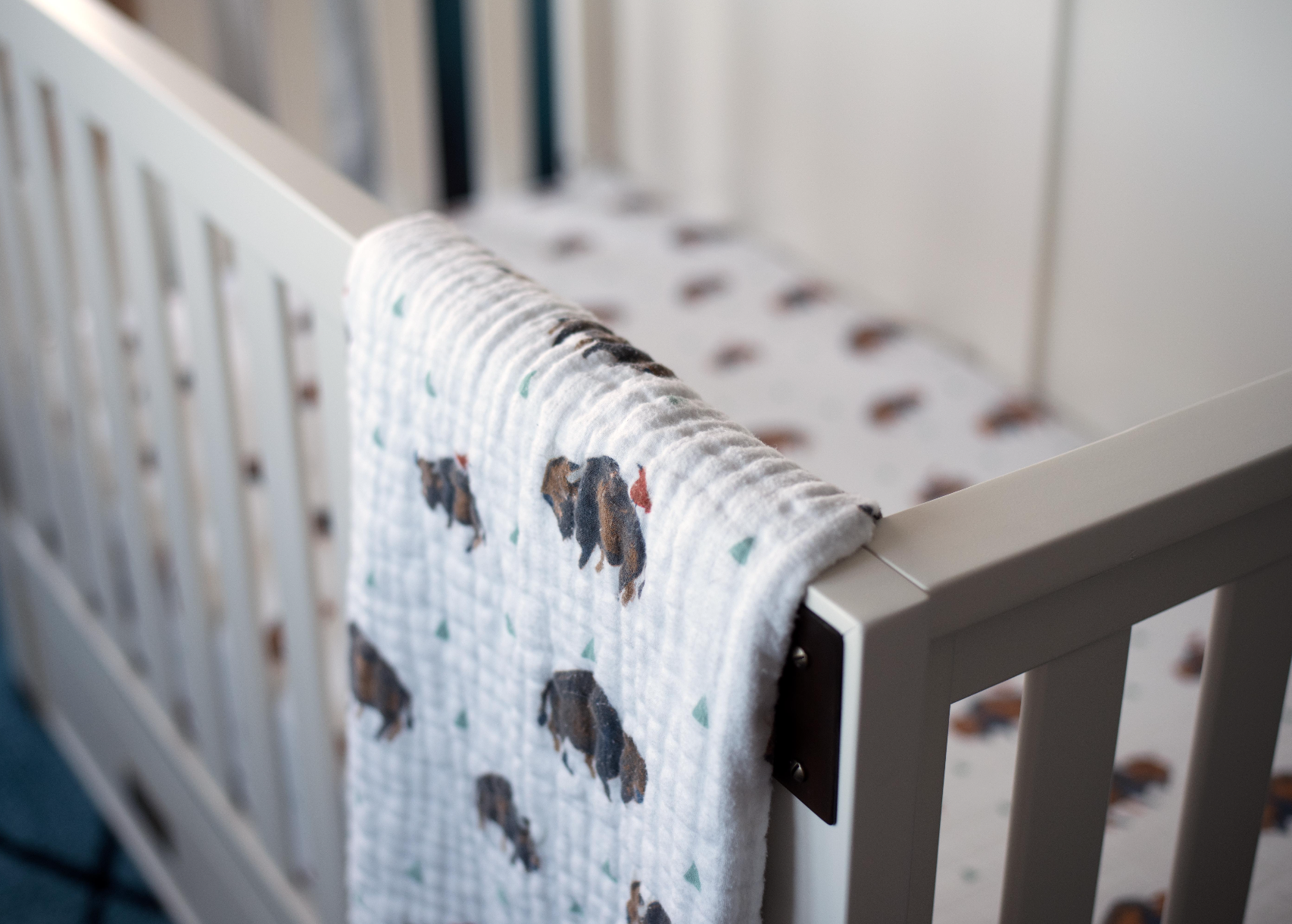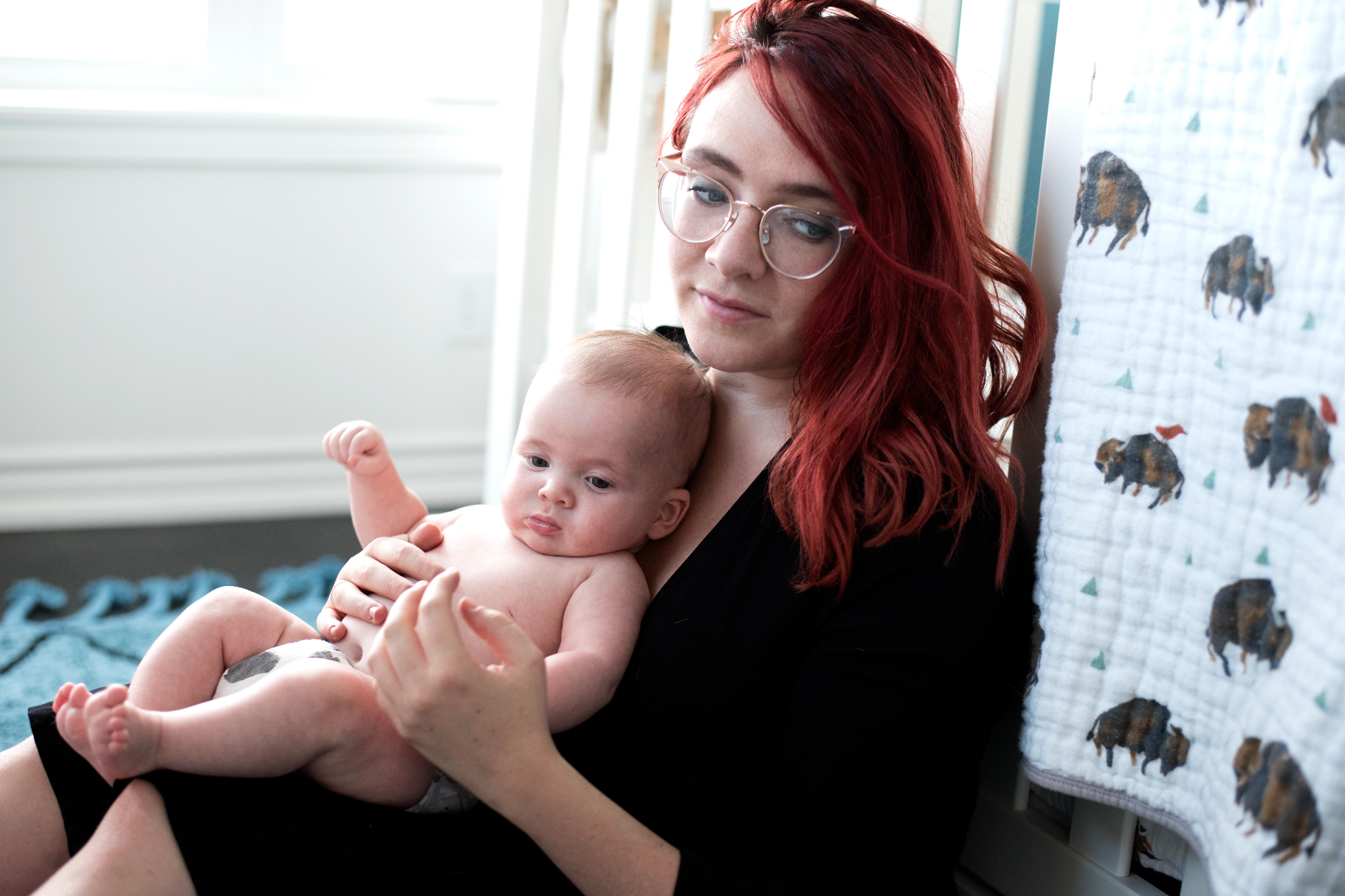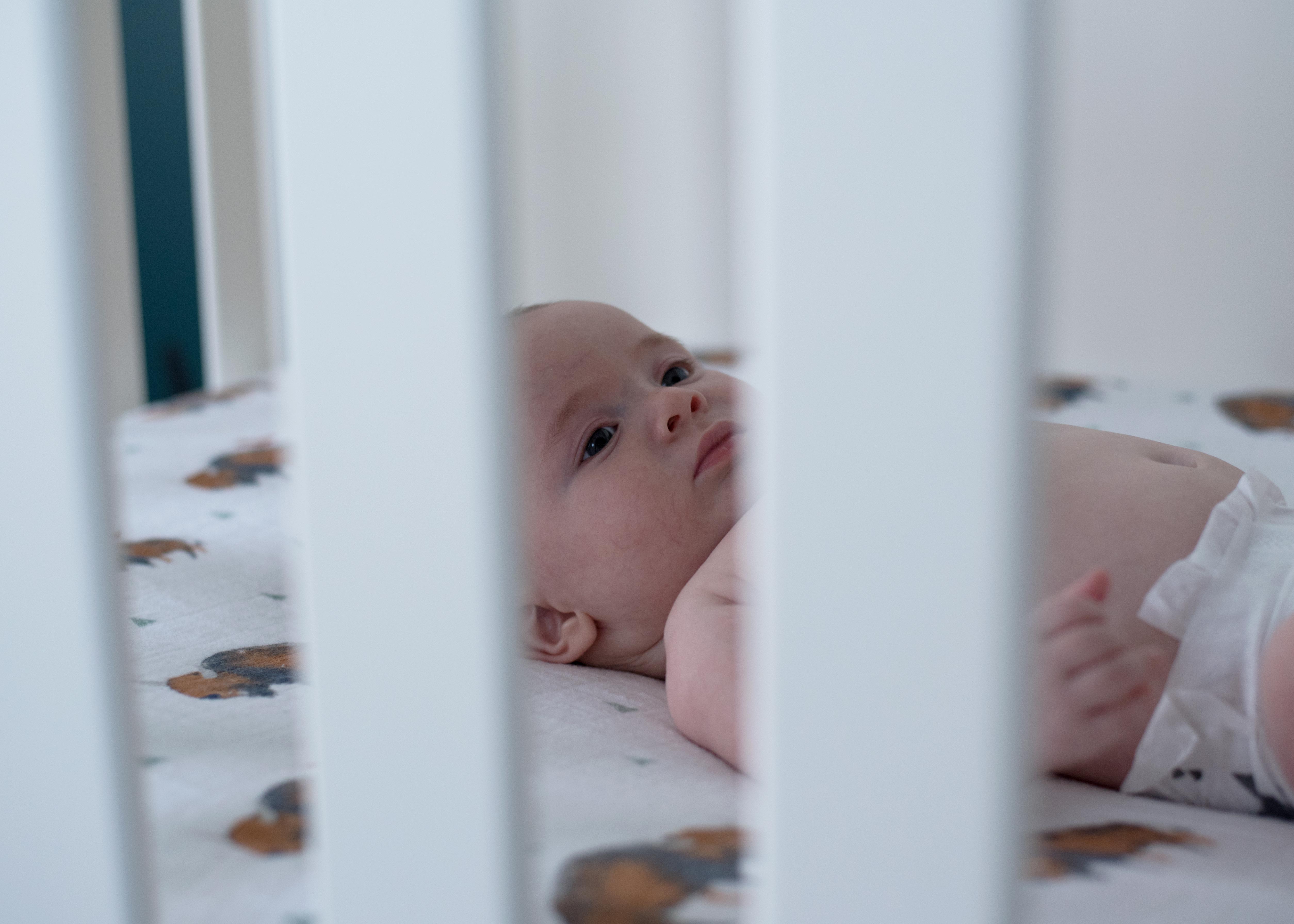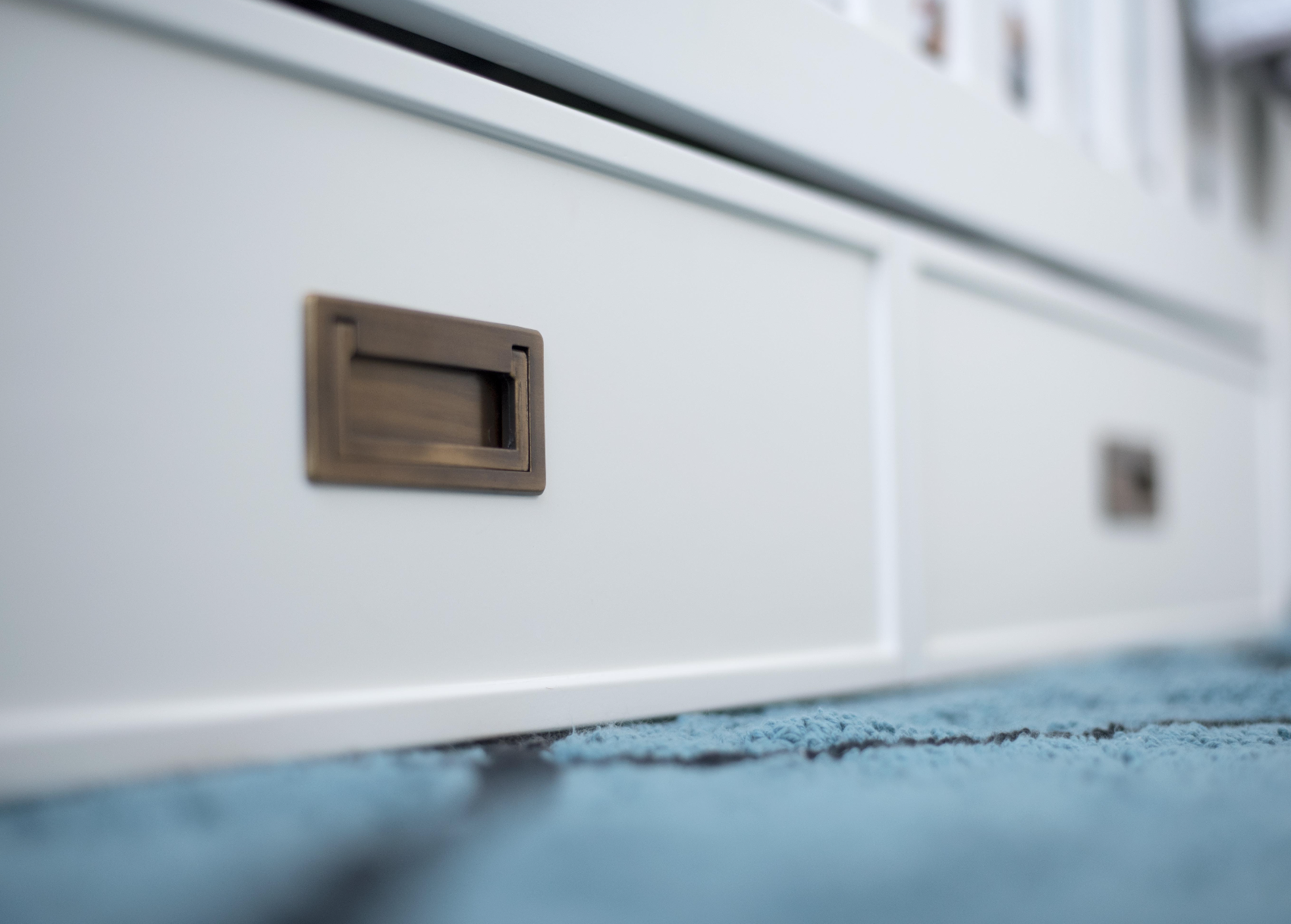 Our nursery has two large windows and gets tons of natural light and we knew we wanted our only real wall to be an accent wall, but were unsure if we wanted to paint or wallpaper. We came across Rocky Mountain Decals on Instagram, a Canadian company that specializes in easy to install and removable wallpaper. Trevor and I fell in love with the Misty Mountain wall mural and thought it would be the perfect neutral backdrop for our little explorer. The installation of the mural was easy, a simple peel and stick application and took Trevor a few hours to put up. The fact that its effortless to remove is also amazing, as when Sterling grows we can update his accent wall to a different one of their fantastic murals or papers. Check out this video of the install of the mural.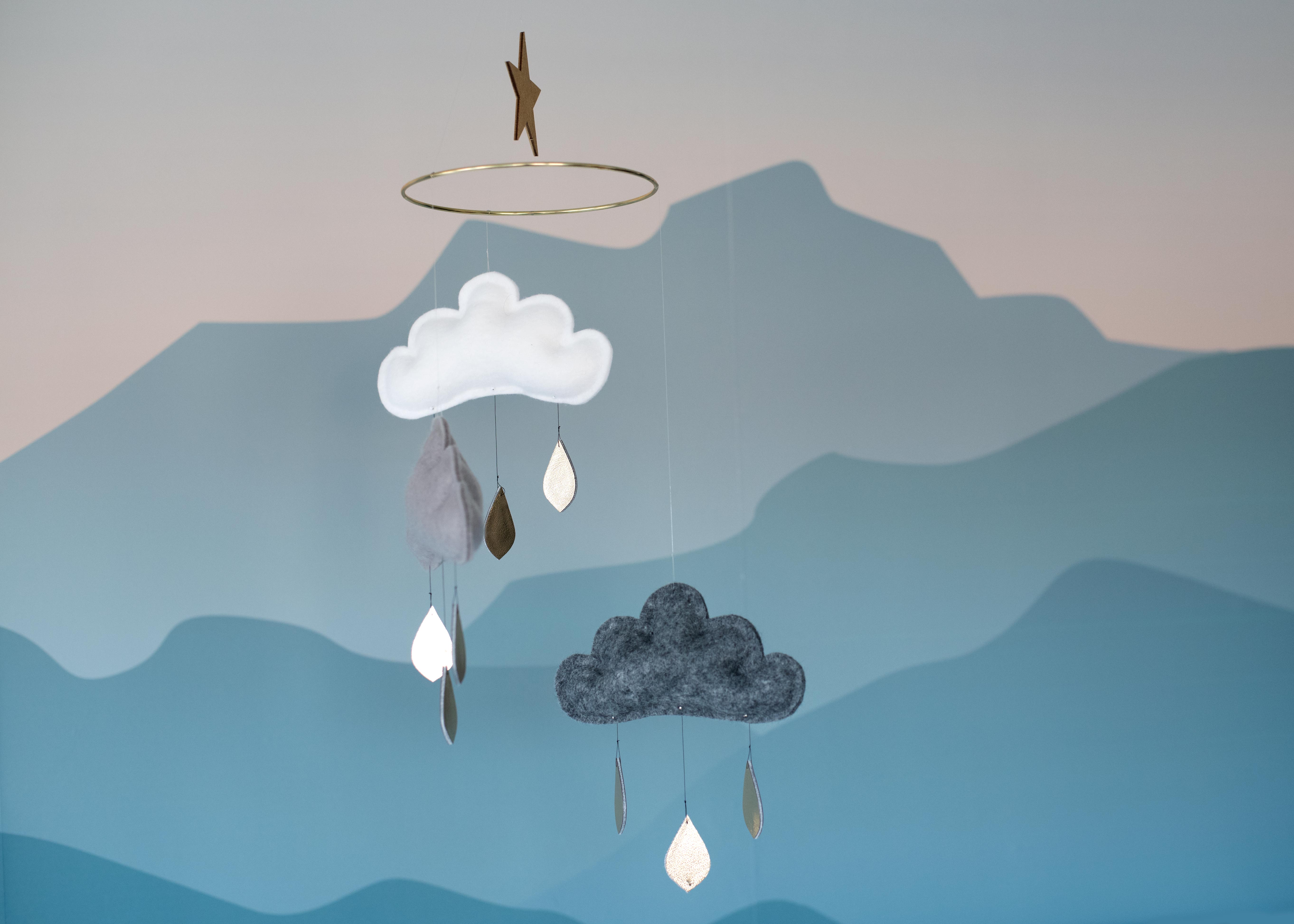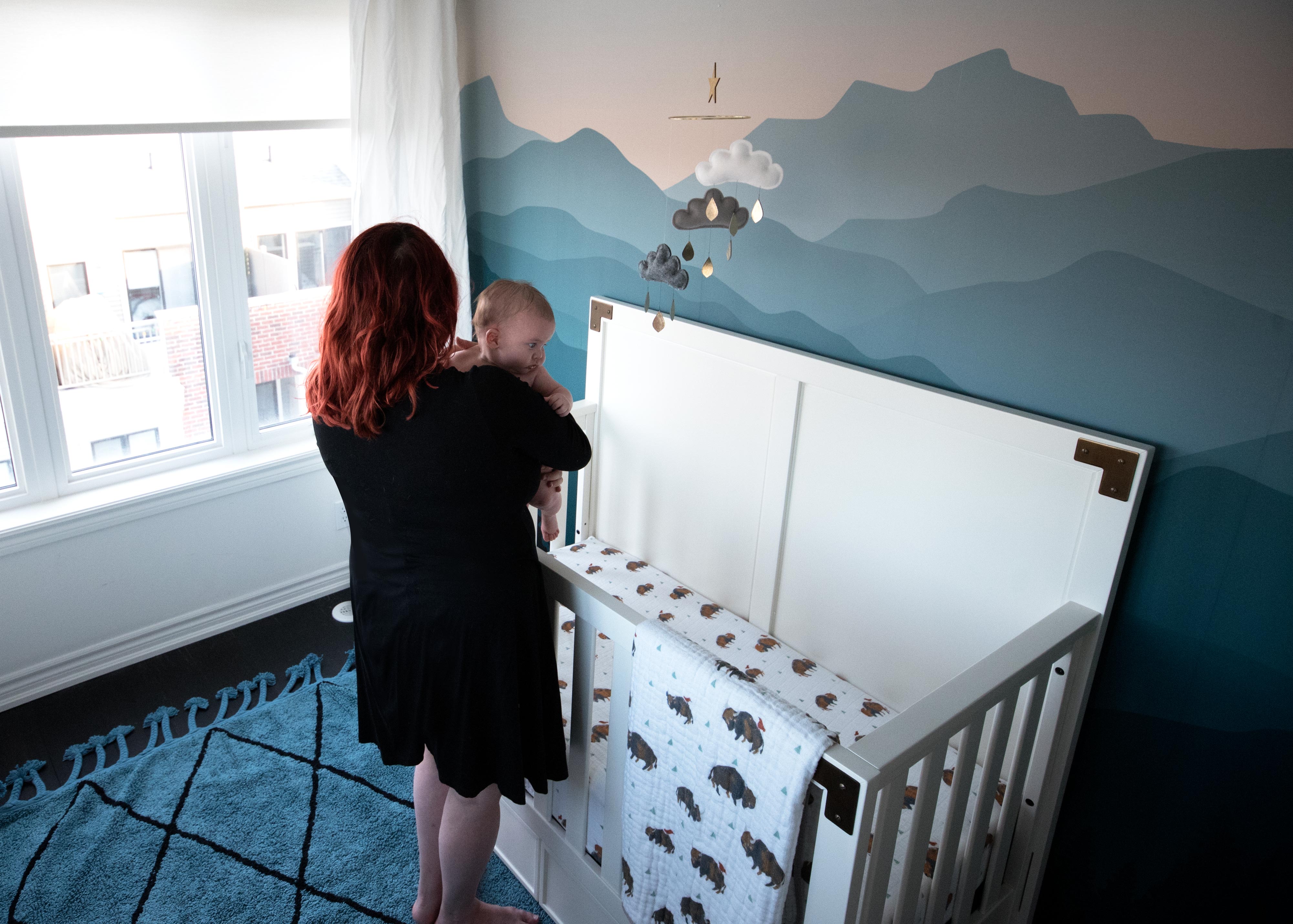 Once we had our accent wall picked, I began to look for accessories and decor that fit the mountain theme. When I found The Butter Flying (again on Instagram), a Montreal-based brand, I loved the idea that the mobile would be the clouds. These hand-made mobiles were so delicate and beautiful, adding the perfect amount of special charm.  The Butter Flying and I have teamed up to offer you 10% off The Butter Flying's Etsy shop by using the coupon code 10HAPPY.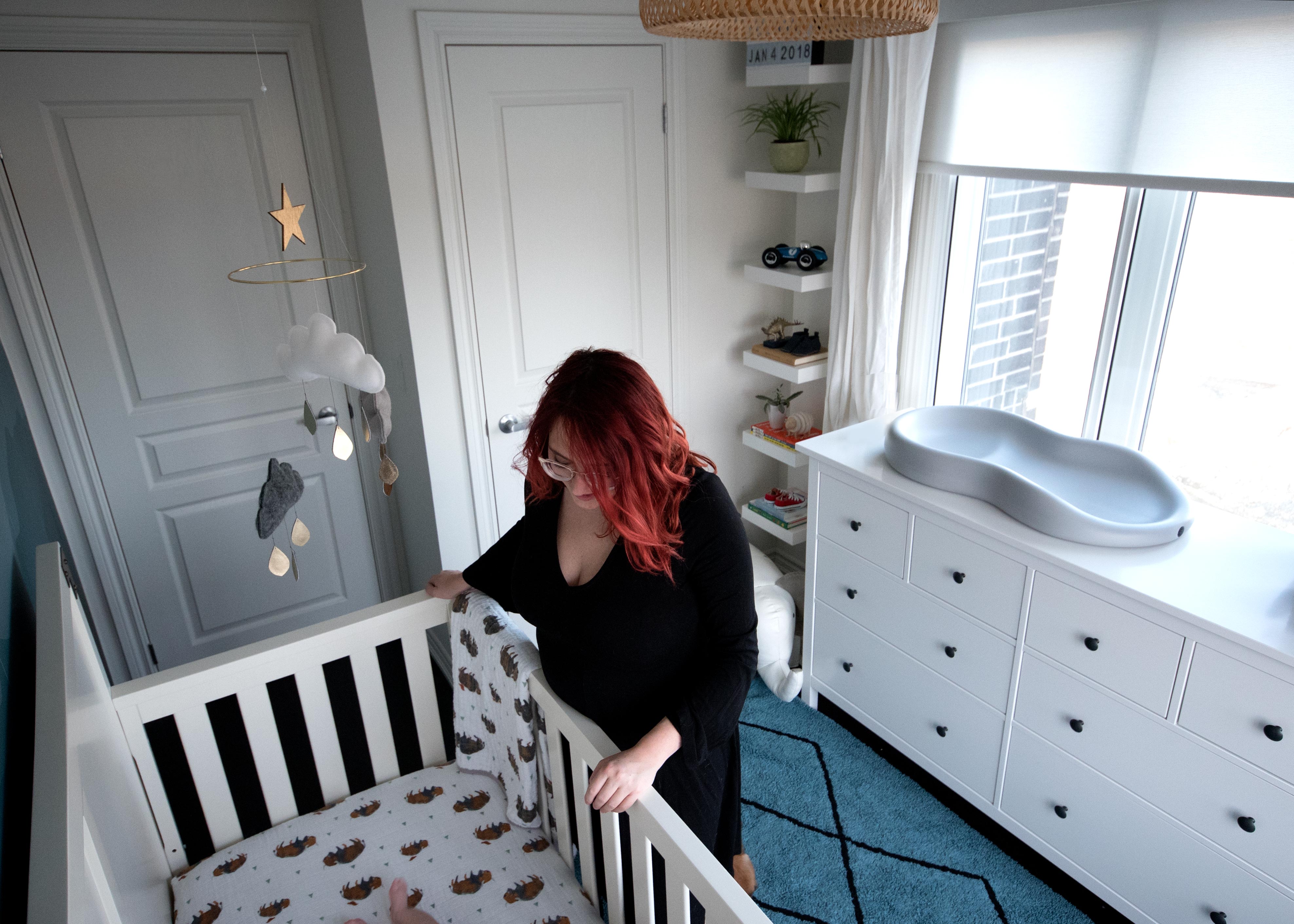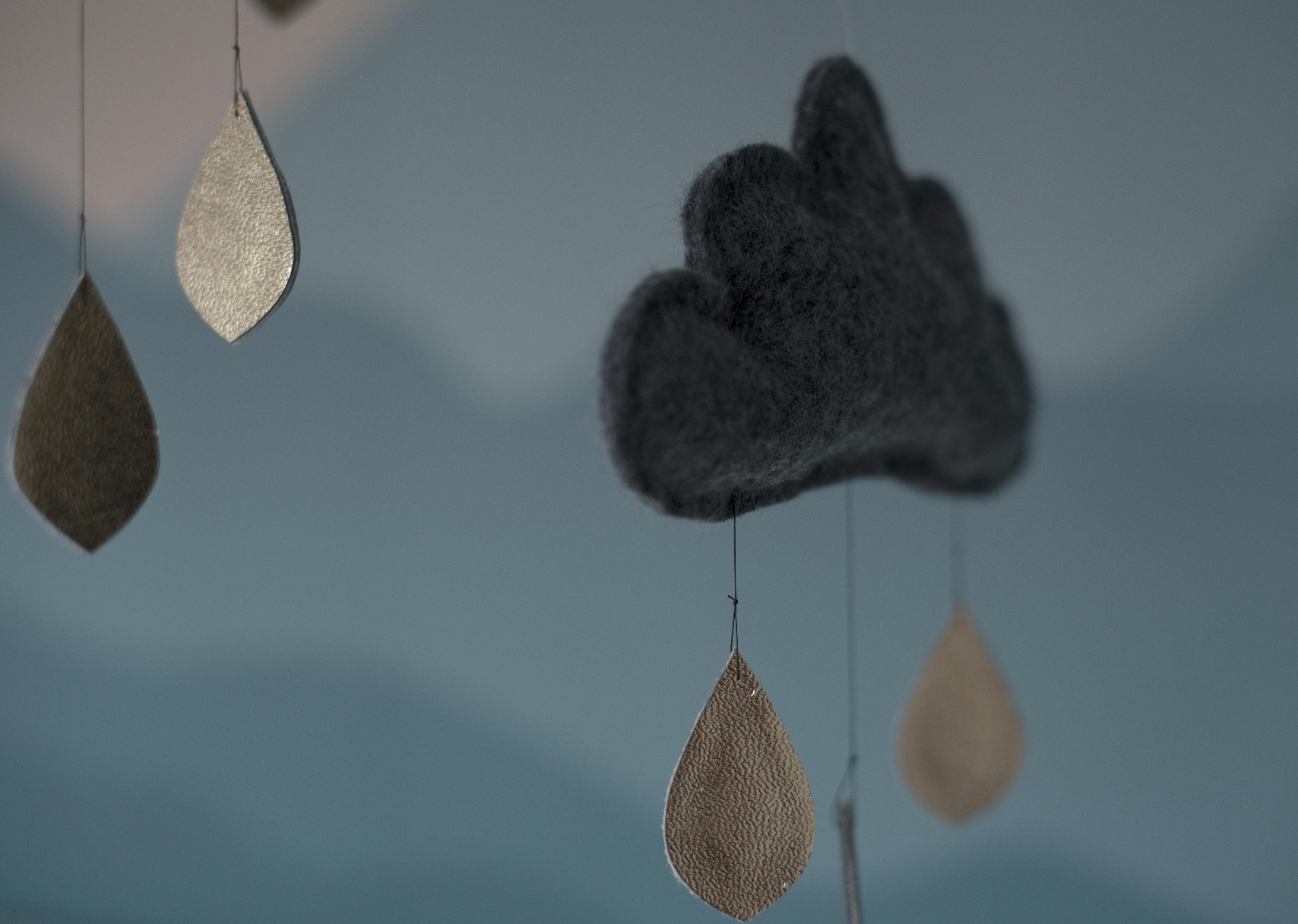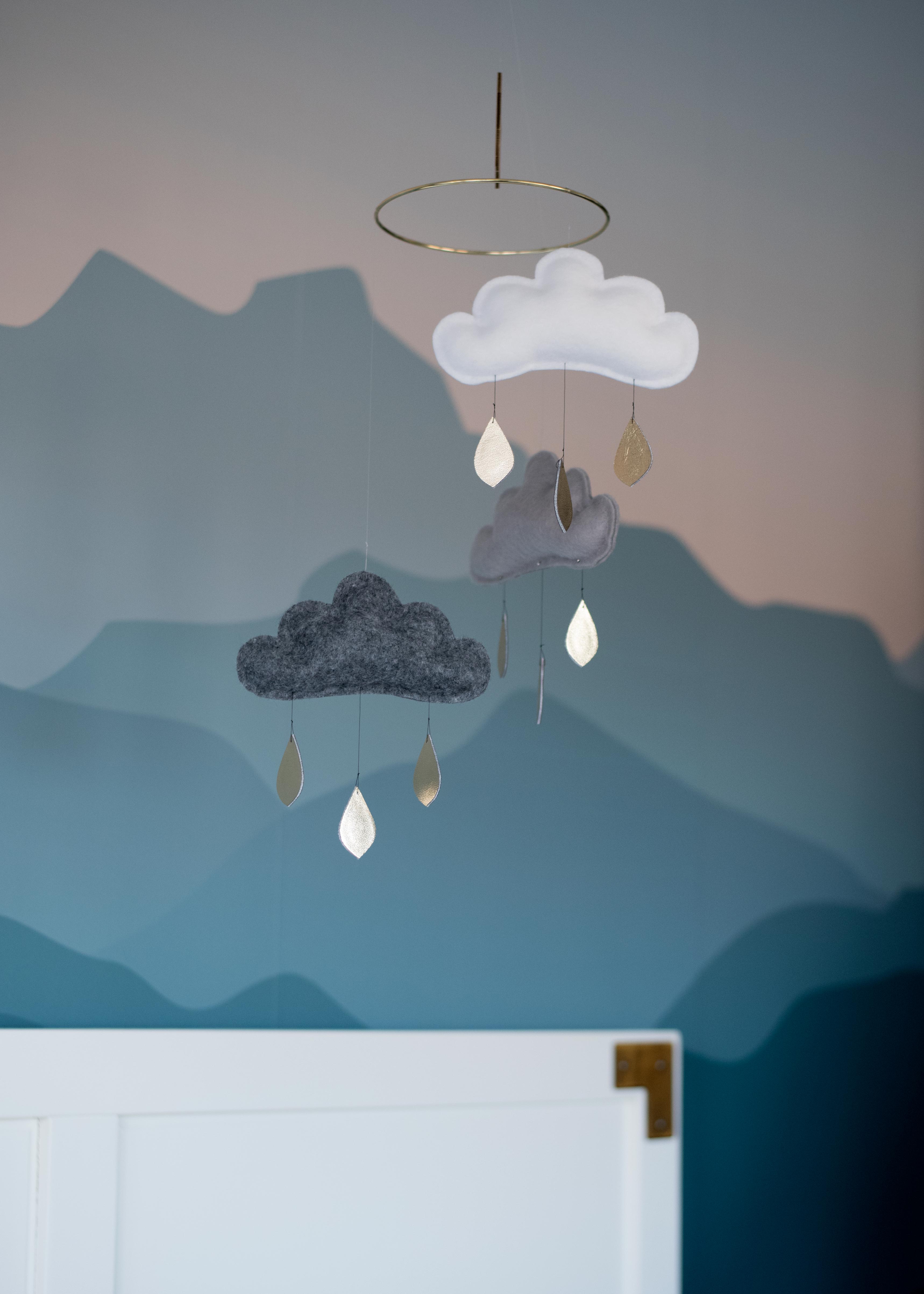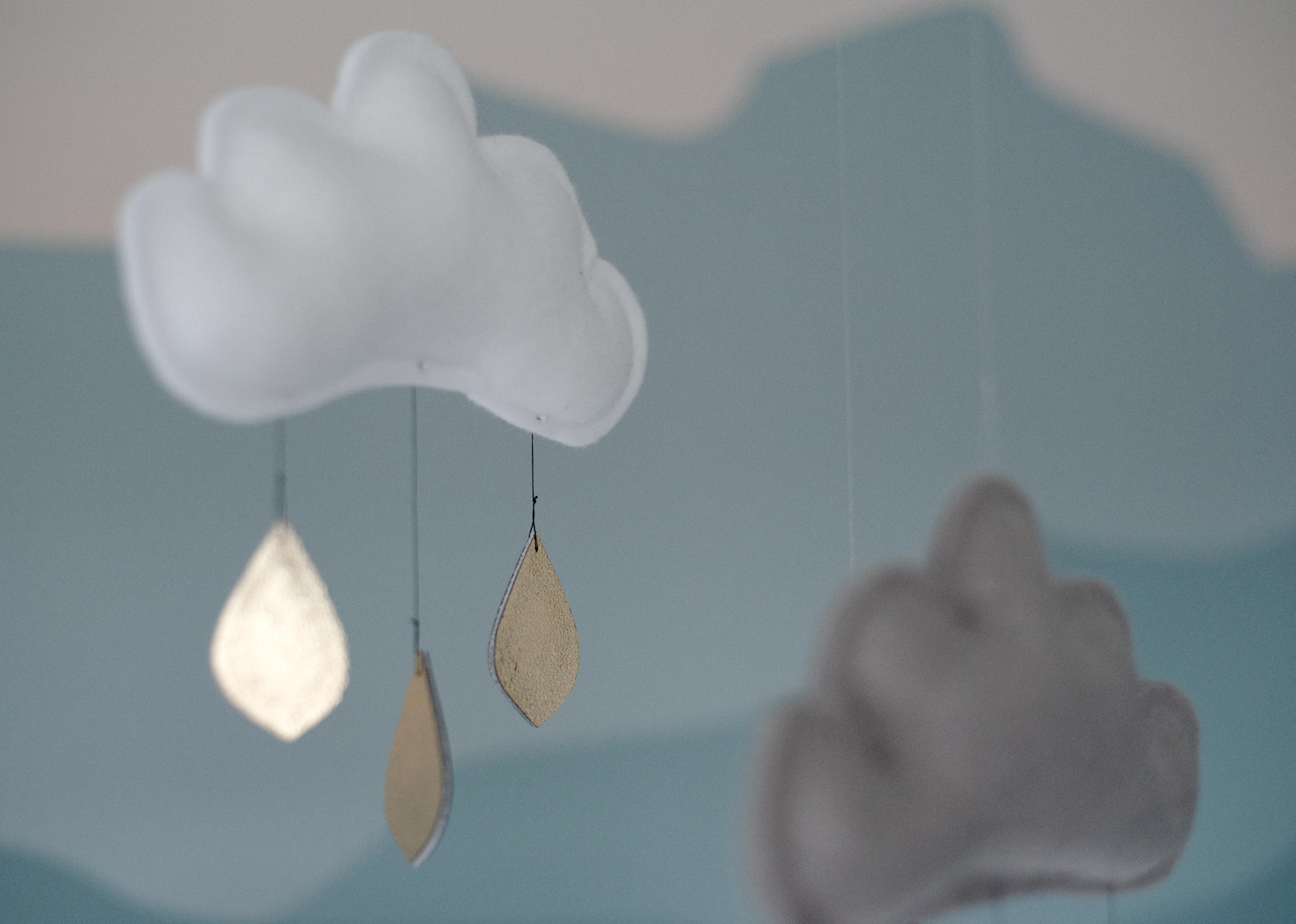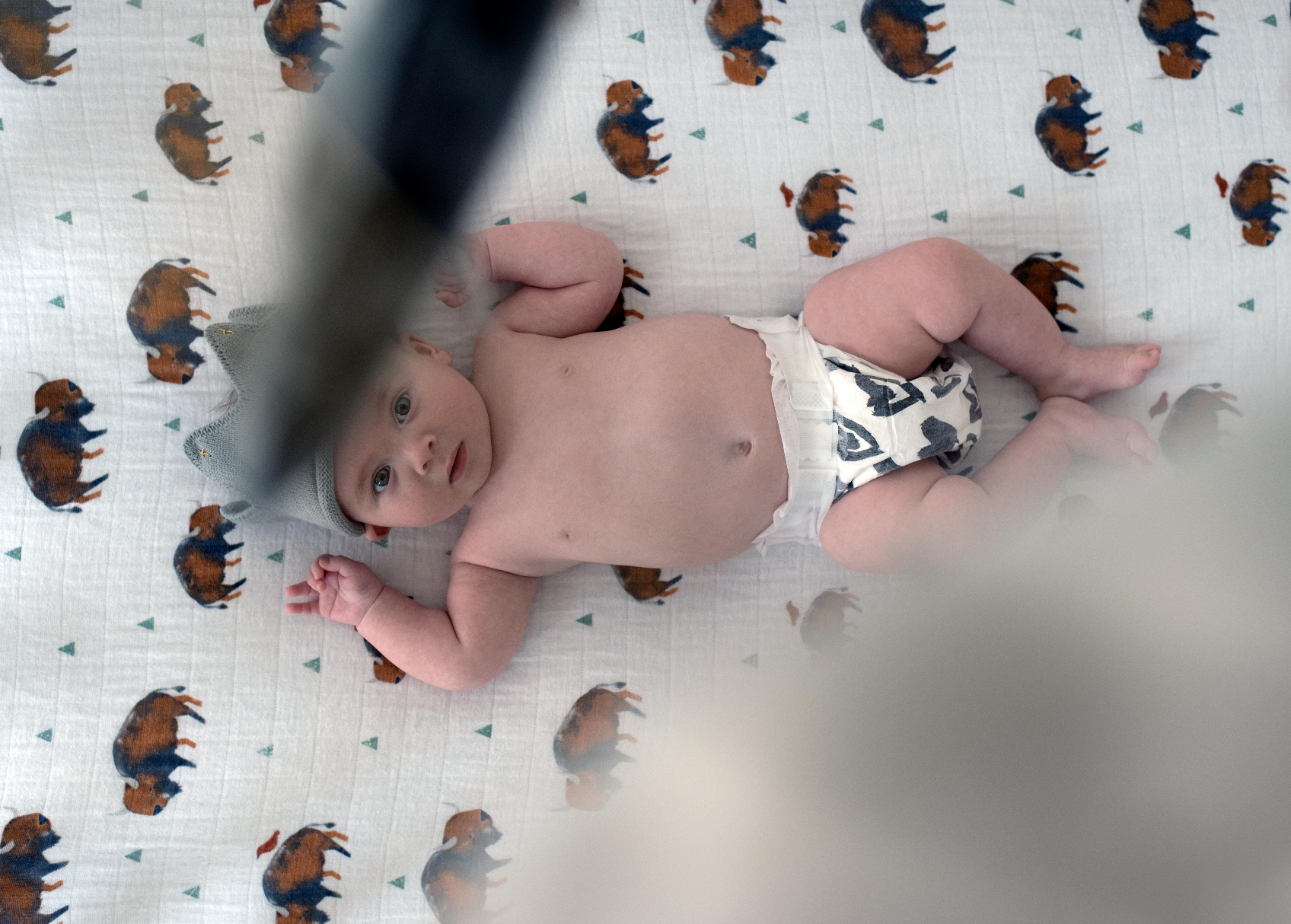 When it came to planning Sterling's linens we wanted to make sure that the pattern or print would make sense against our Rocky Mountain Decal mural. We soon fell in love with the playful Bison pattern from Little Unicorn. We picked out the Brushed Crib Sheet and Brushed Muslin Cotton Quilt and a bunch of their swaddle blankets (Tropical Leaf, Lemon and Bike Family seen here) to wrap him in while he sleeps.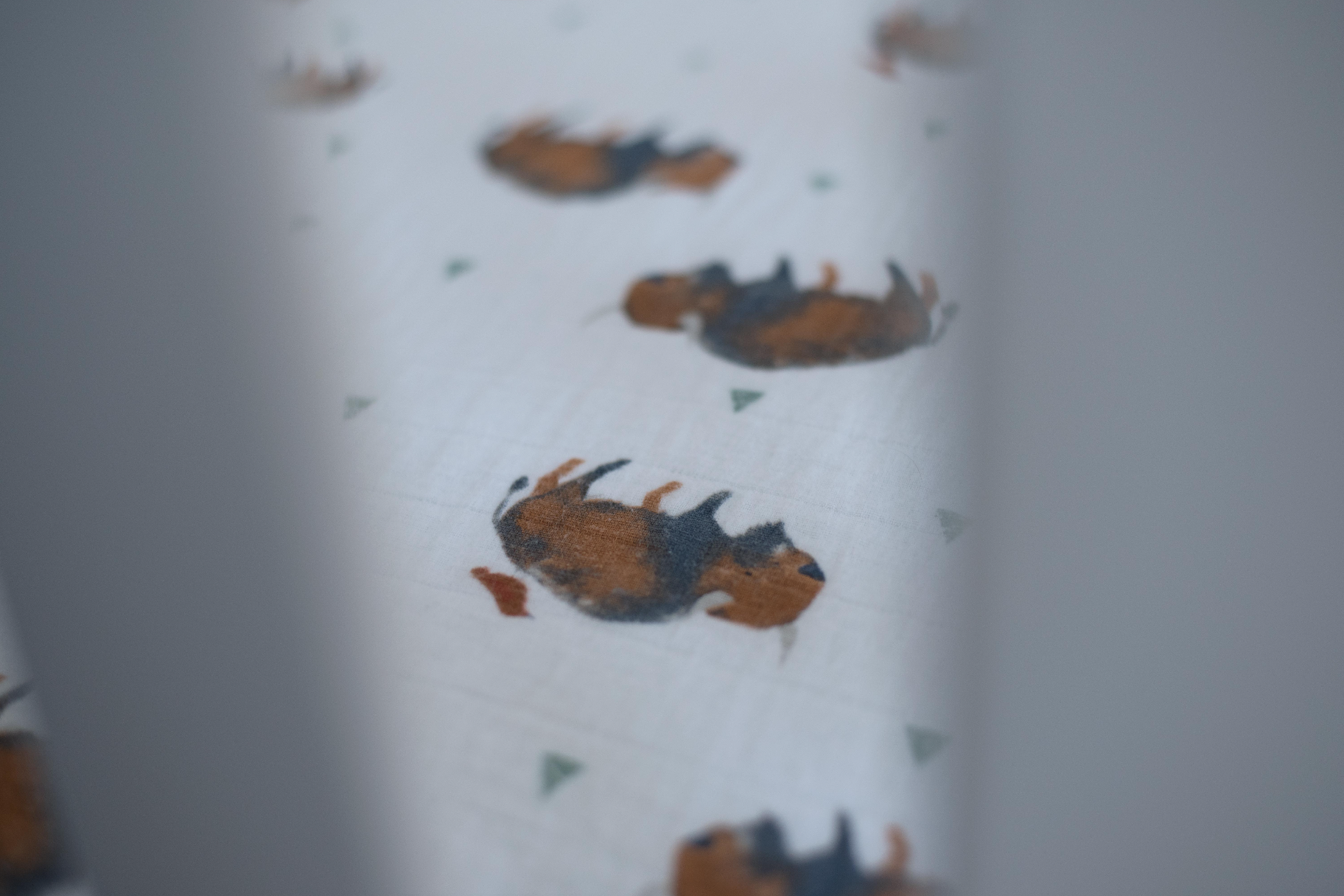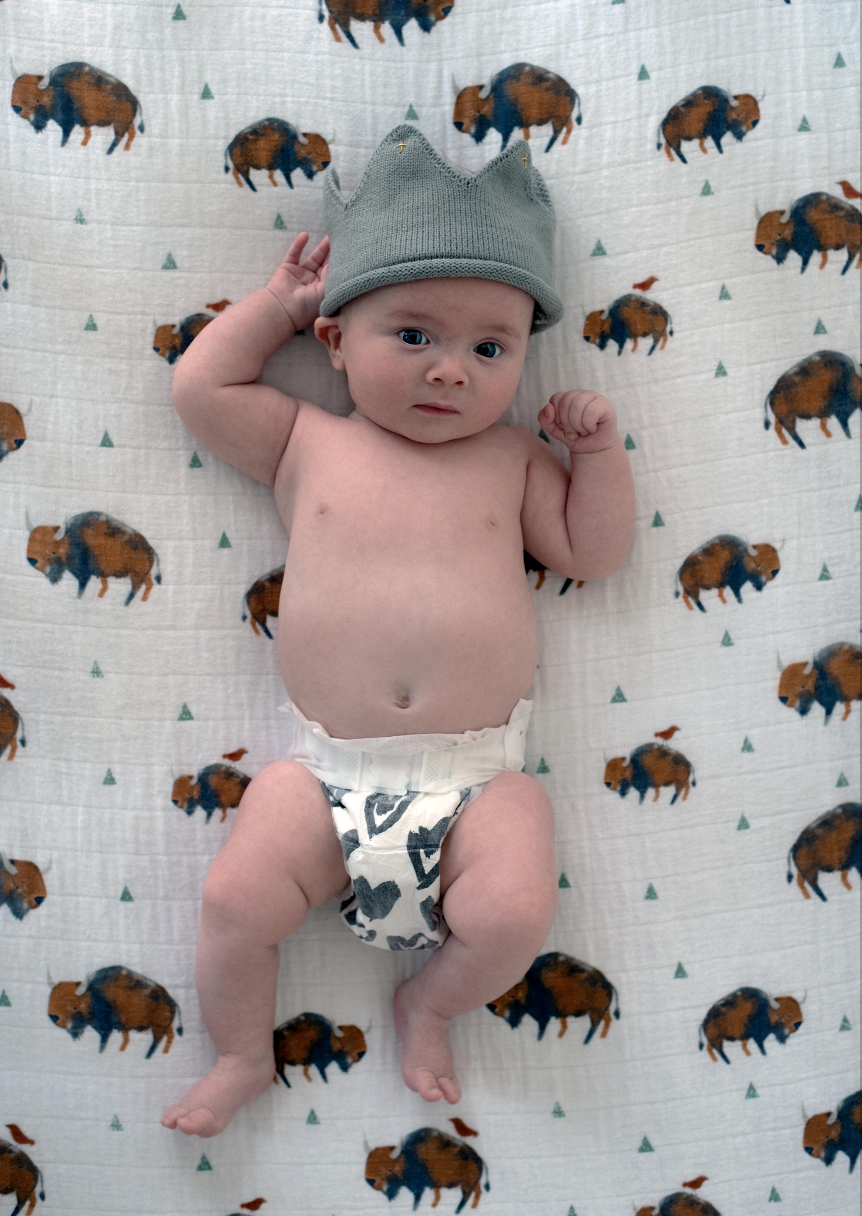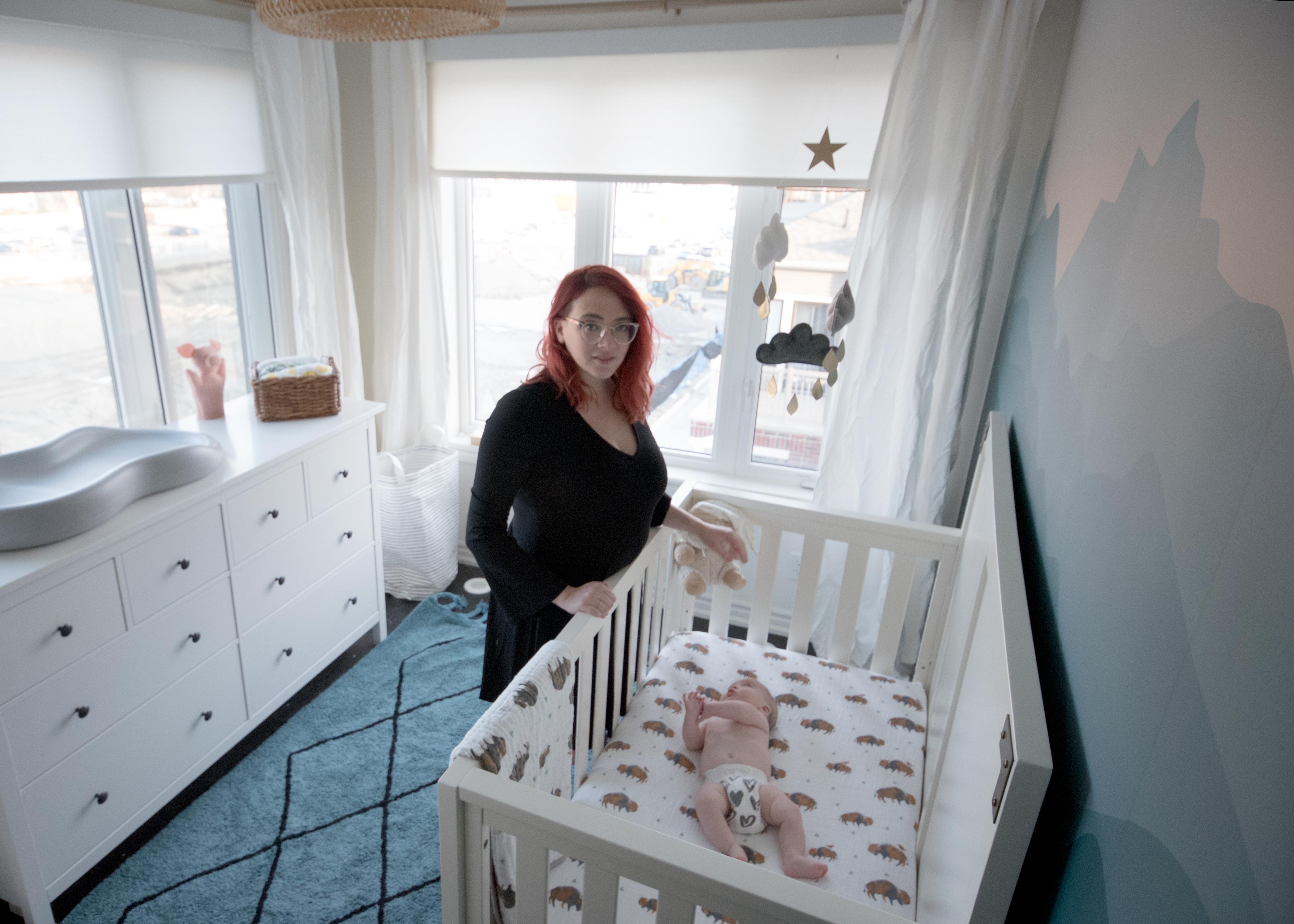 Flooring was one of the final details for the room to help ground the space and add an element of warmth. We have hardwood floors throughout our home and I wanted to have a plush rug for Sterling to play on. Lorena Canals available at West Coast Kids is an amazing line of machine washable rugs that specialize in creative and fun prints and spaces meant for nurseries. We never know what will end up on our rugs with a cat, dog and baby so it's important for this to be durable and easily machine washable.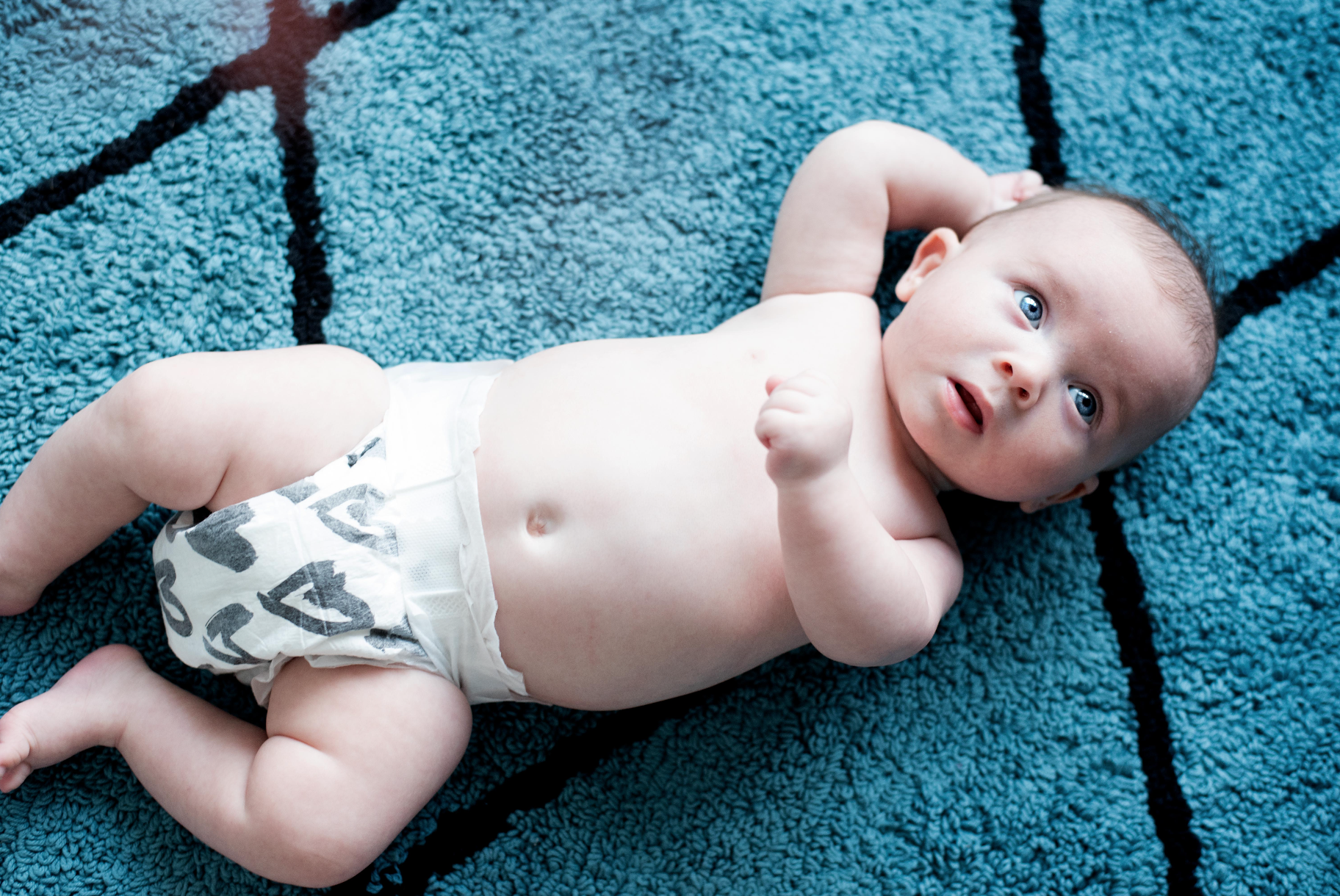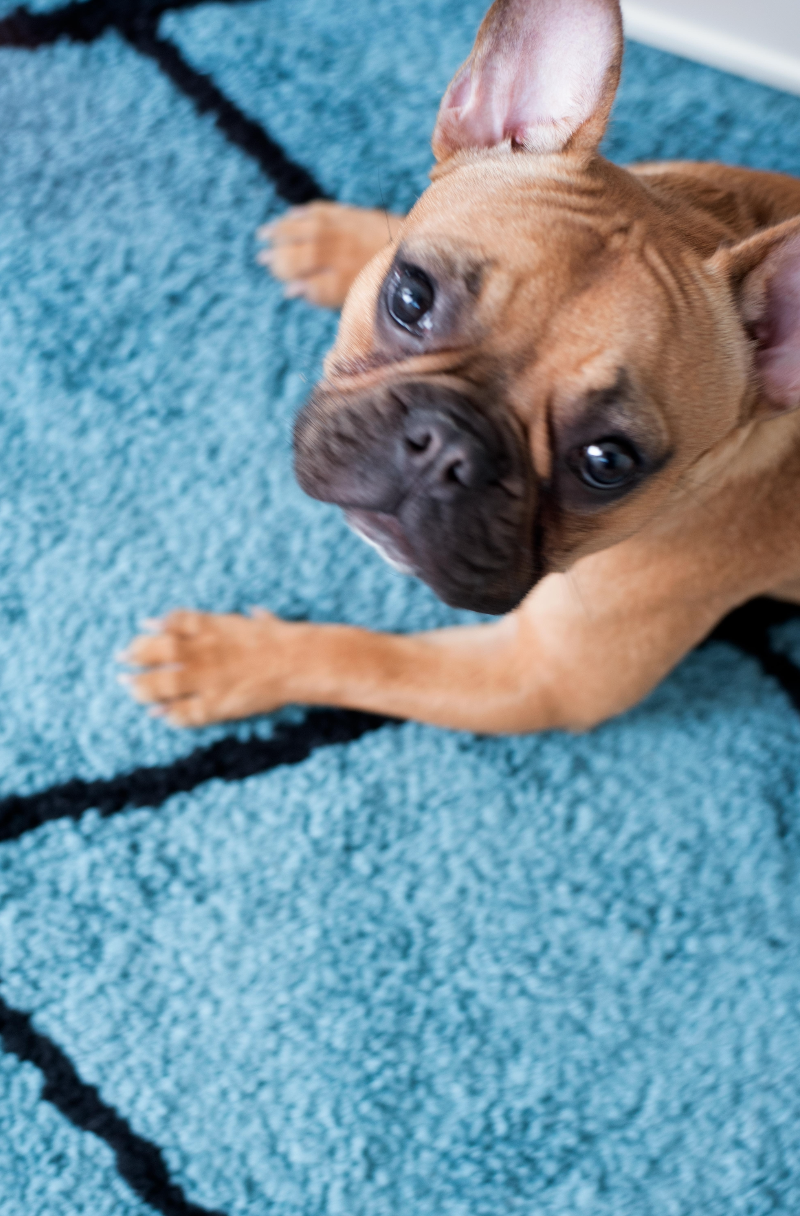 Sterling's room is small, so we needed to make sure that we picked things that complimented the space. The Keekaroo Peanut Changer has been the ideal for us, sitting perfectly on top of his dresser, thus taking up no real estate on our floor. Our Peanut is slip resistant and made of a material that won't allow fluids to penetrate. I also love how easy it is to wipe clean (because accidents happen), without adding any laundry.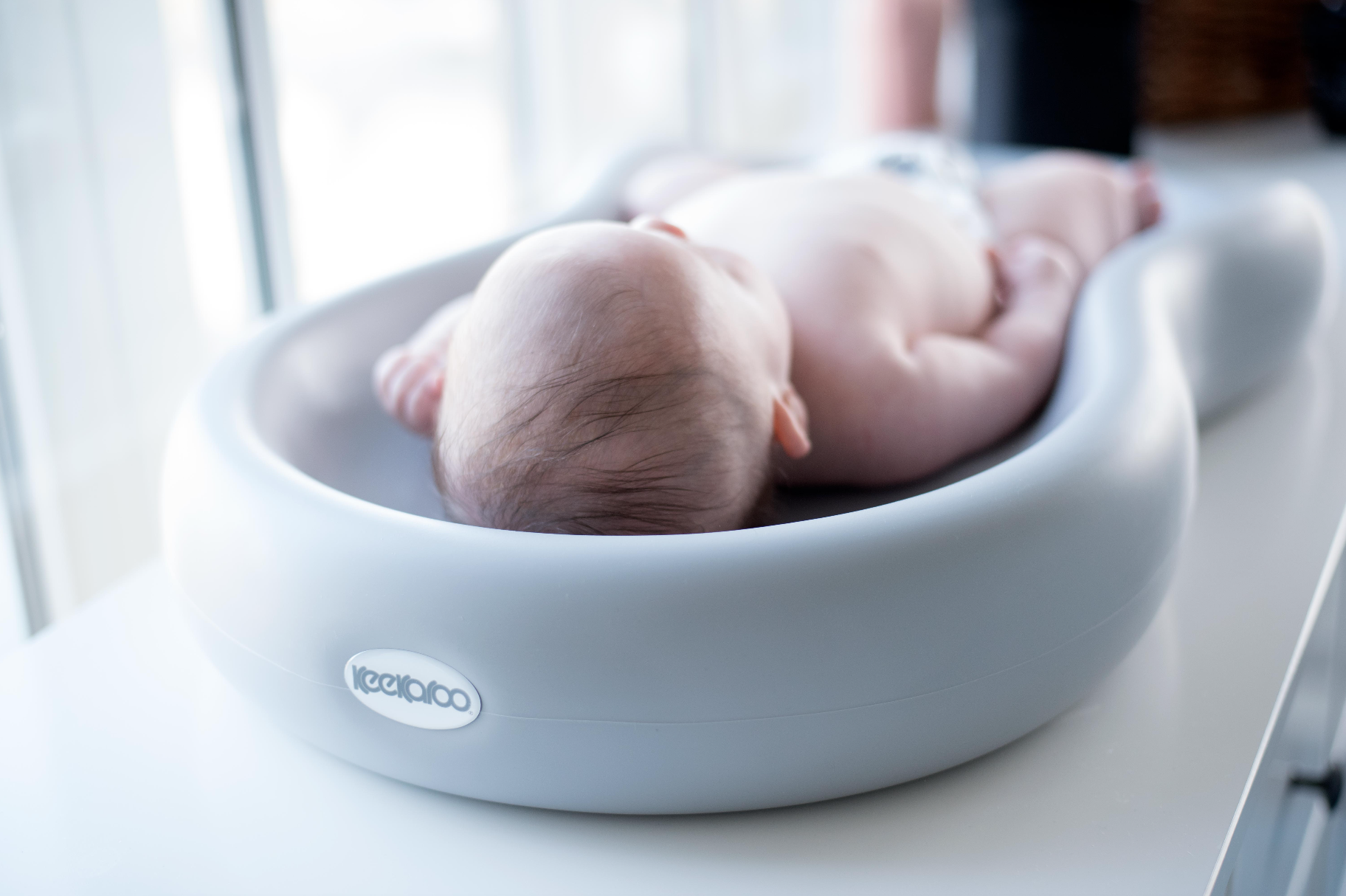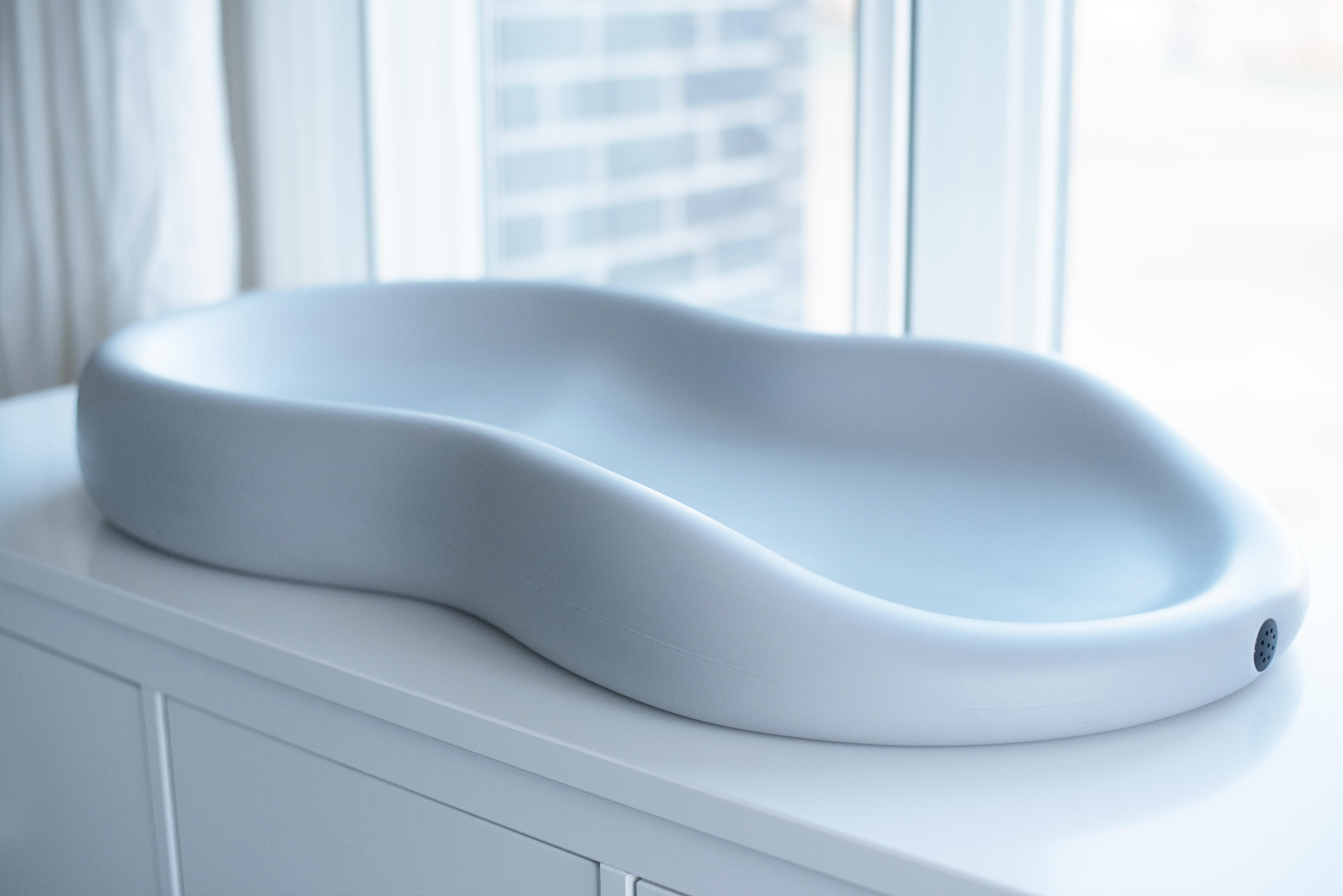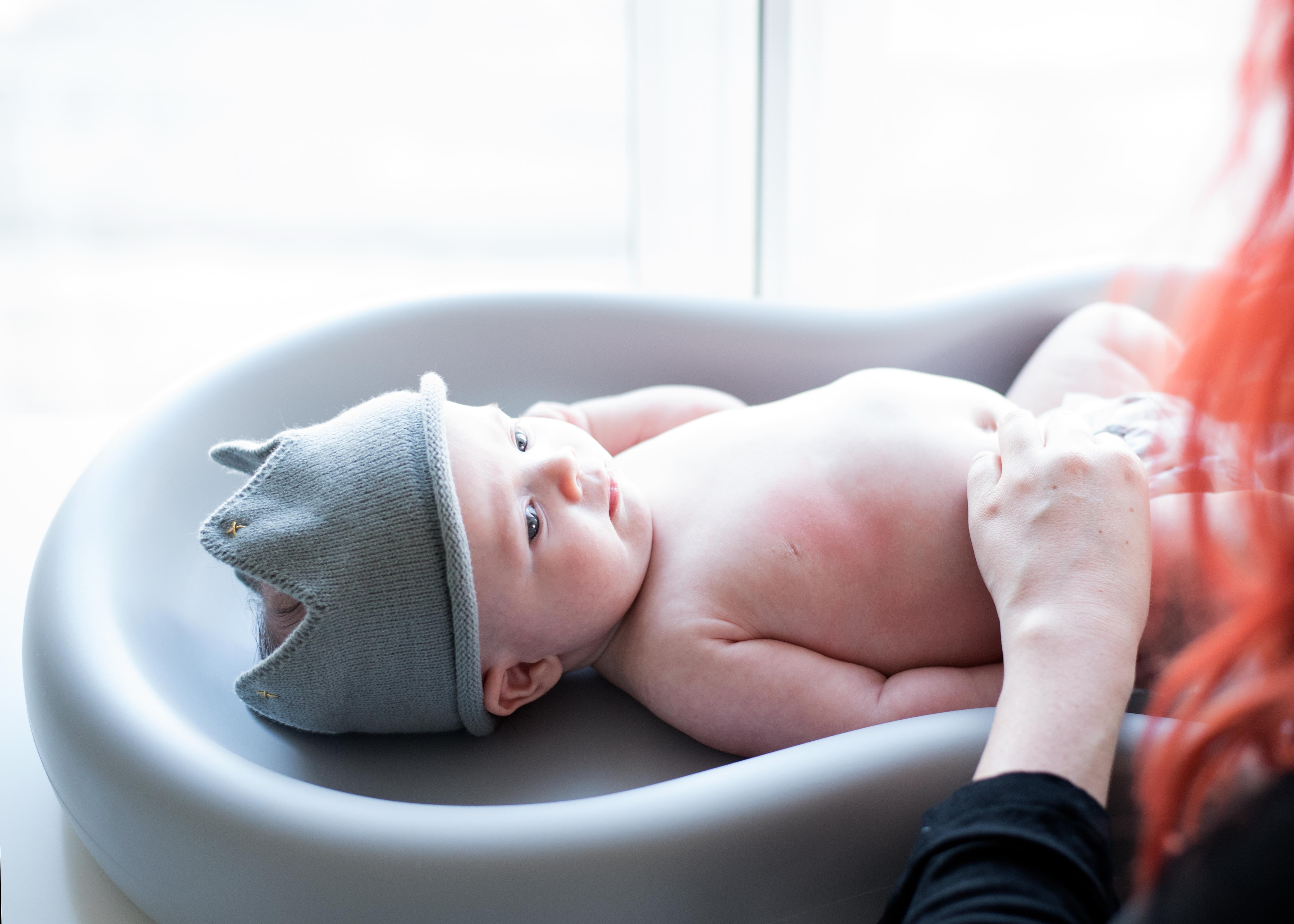 Around the room the decor that can be found are wooden toys, classic books and his future accessories (shoes and hats) that give the room that fashionisto feel.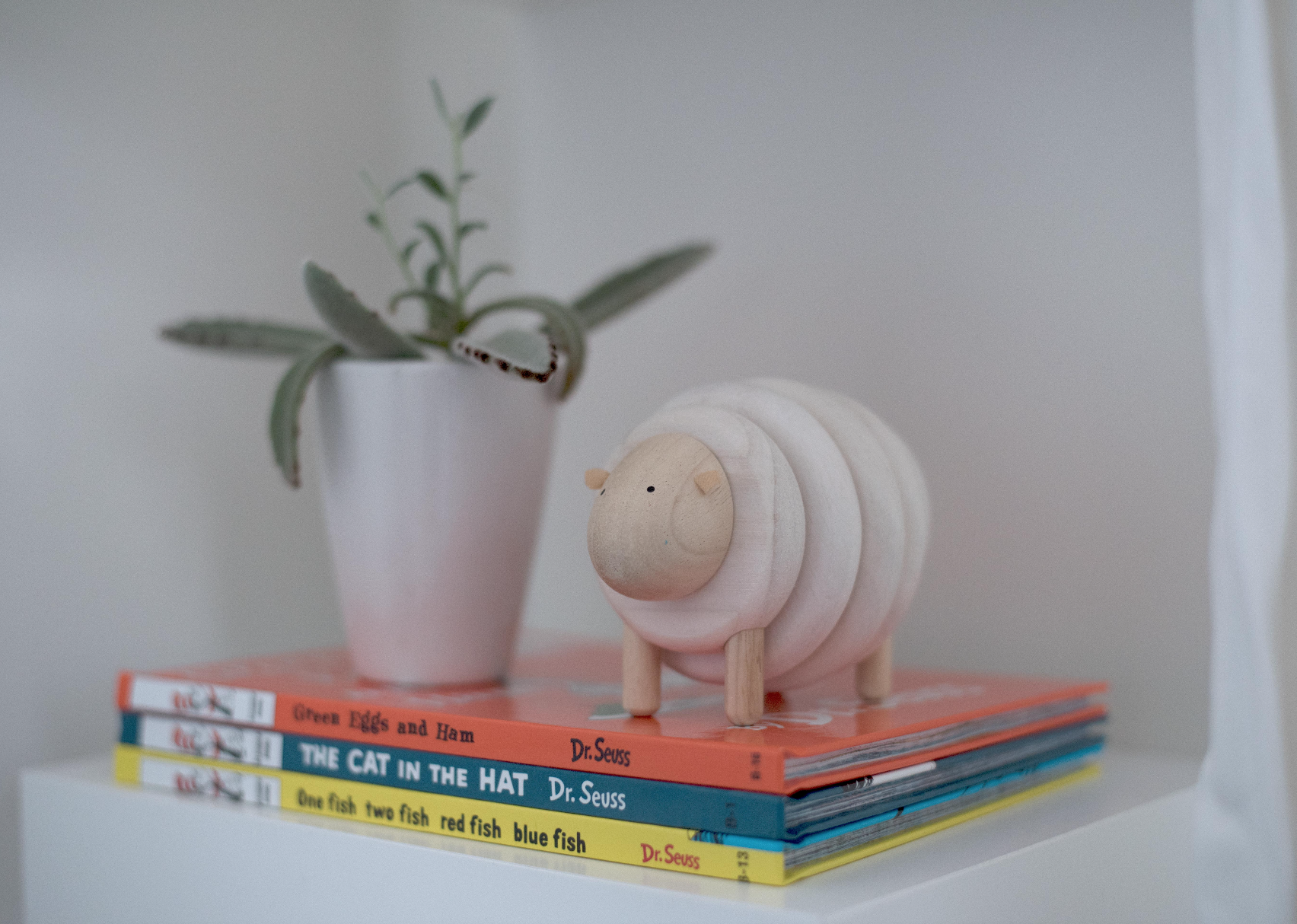 Plan Toys Lacing Sheep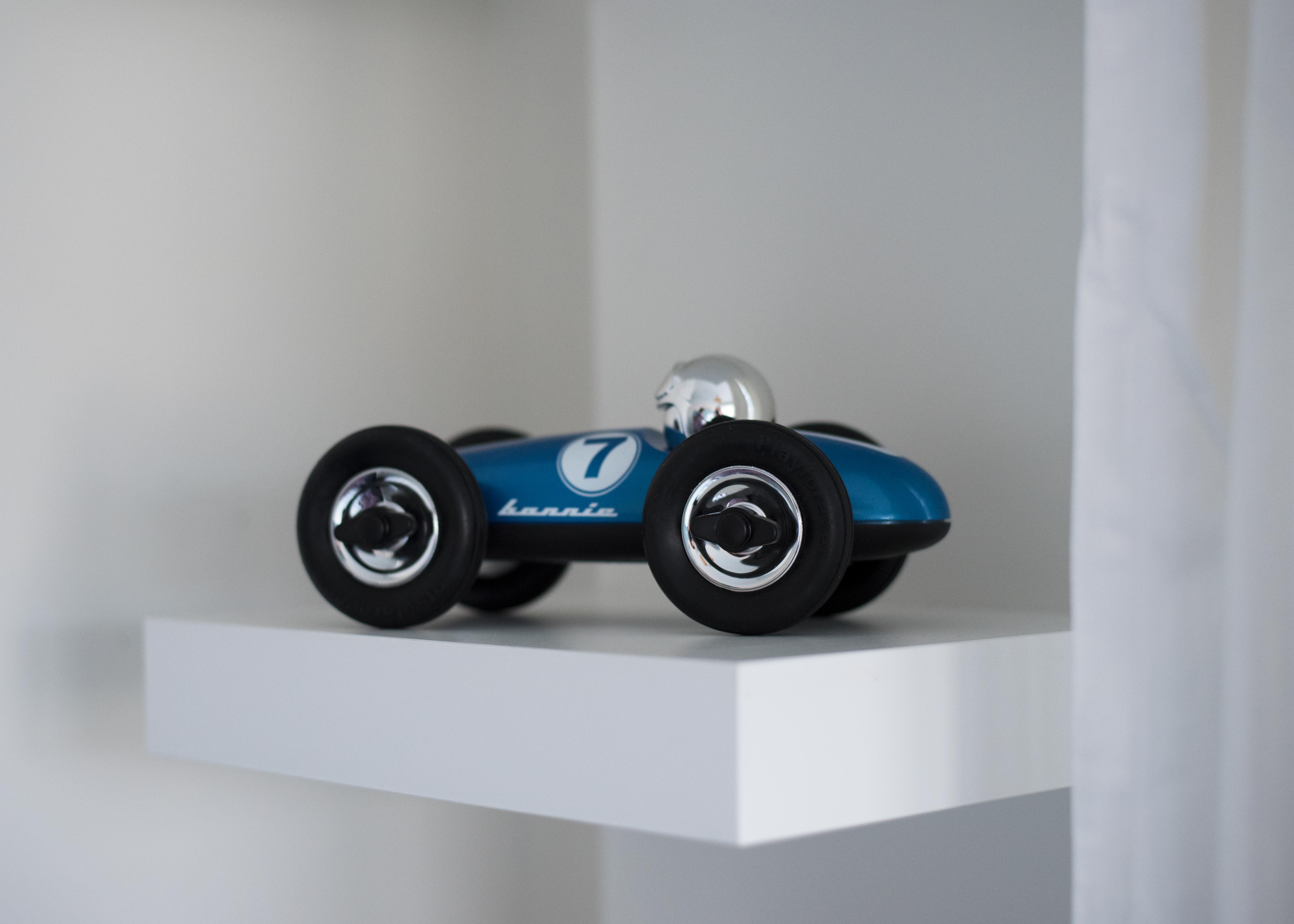 Playforever Midi Race Car Bonnie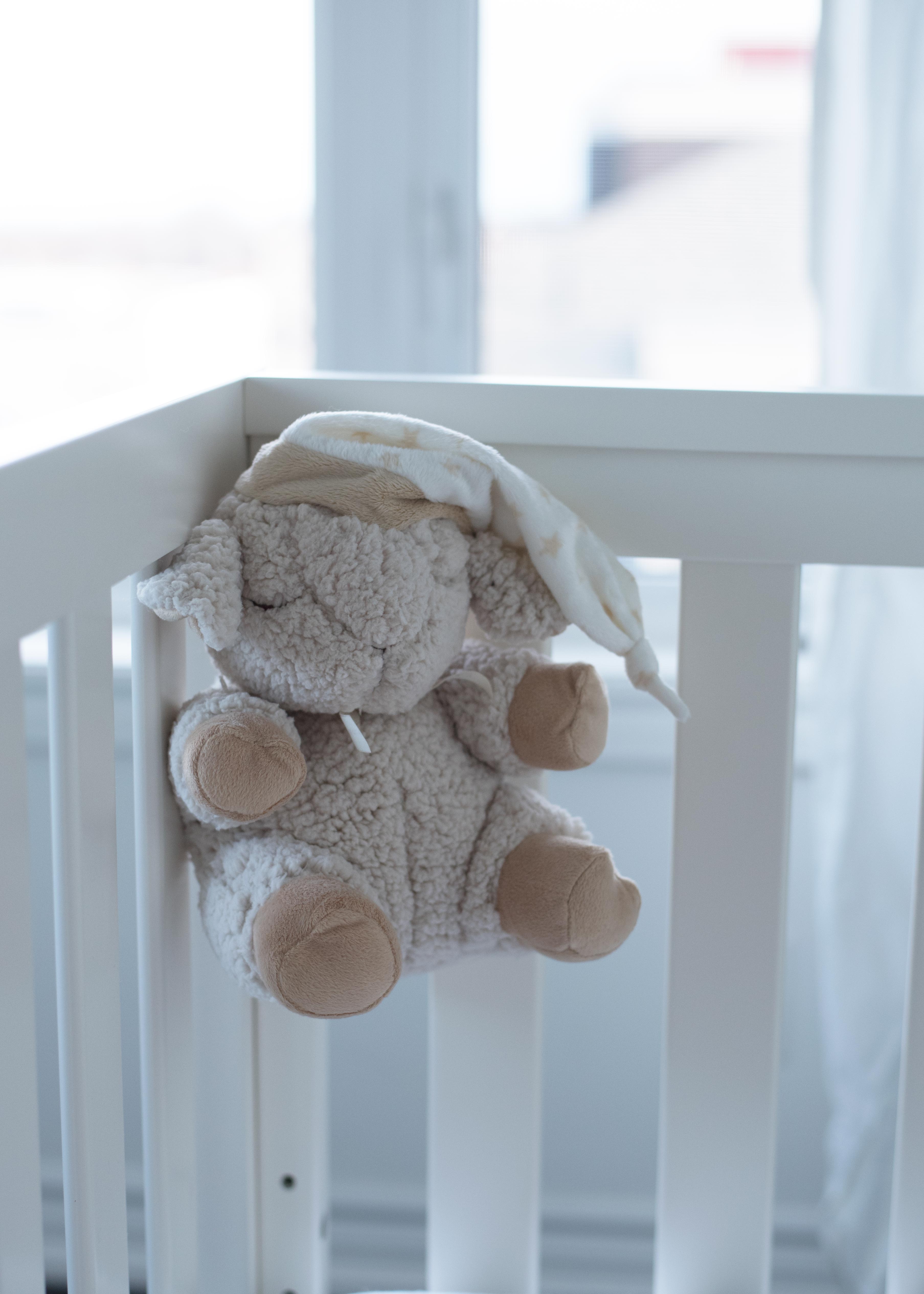 Cloud B Sleep Sheep Smart Sensor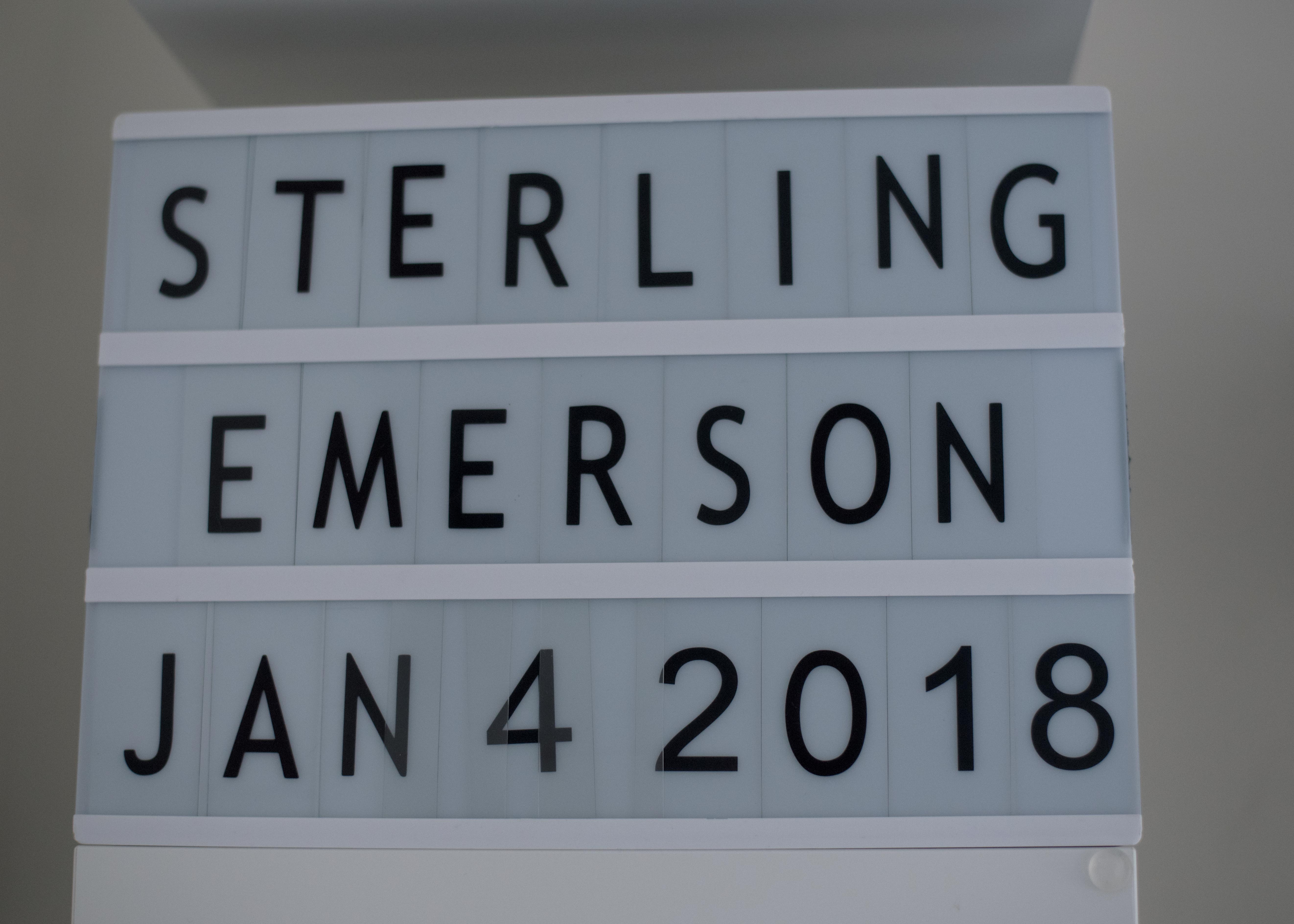 A Little Lovely Company Light Box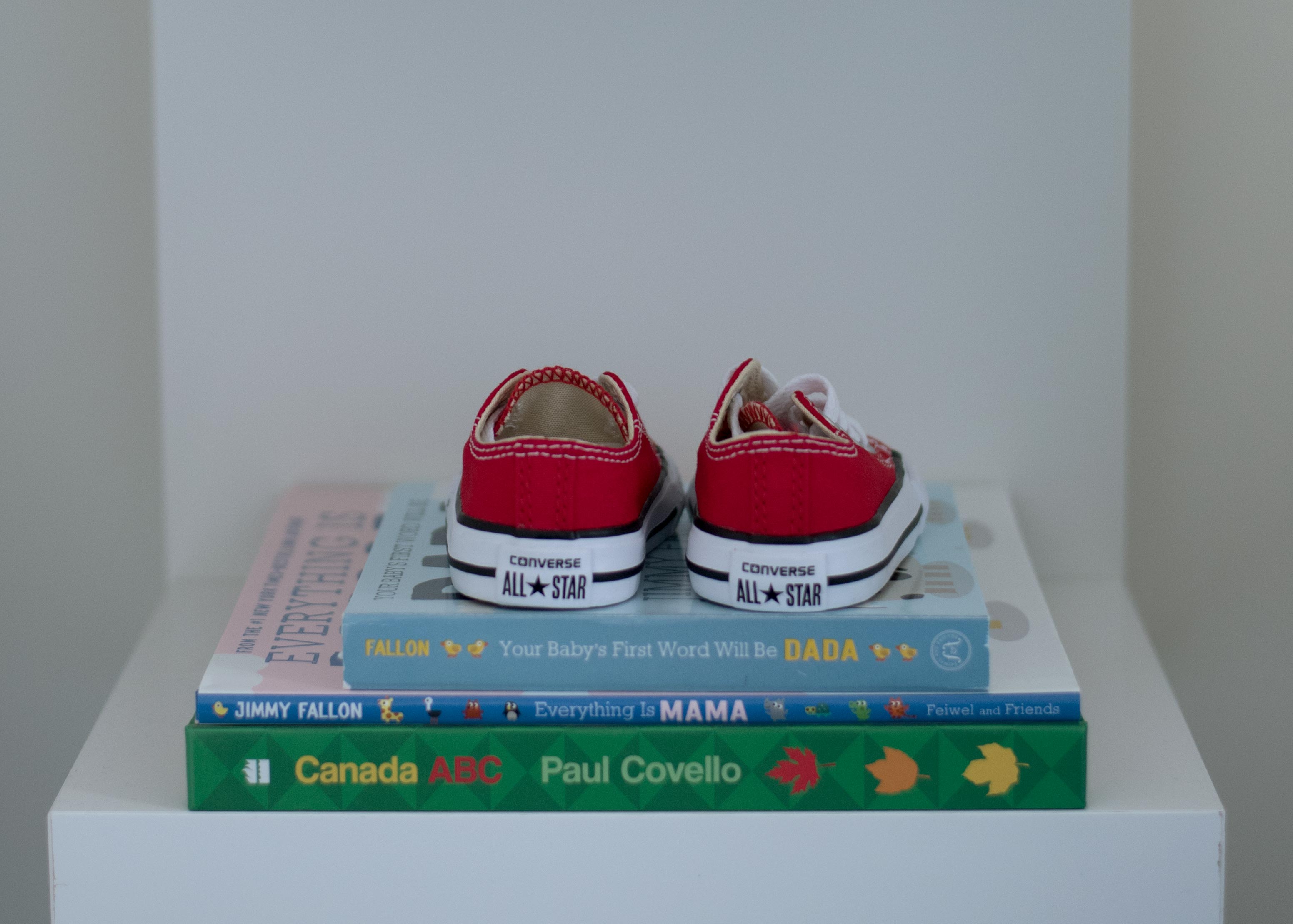 Converse Infant Chuck Taylors, Everything is Mama by Jimmy Fallon, Your Baby's First Word will be Dada by Jimmy Fallon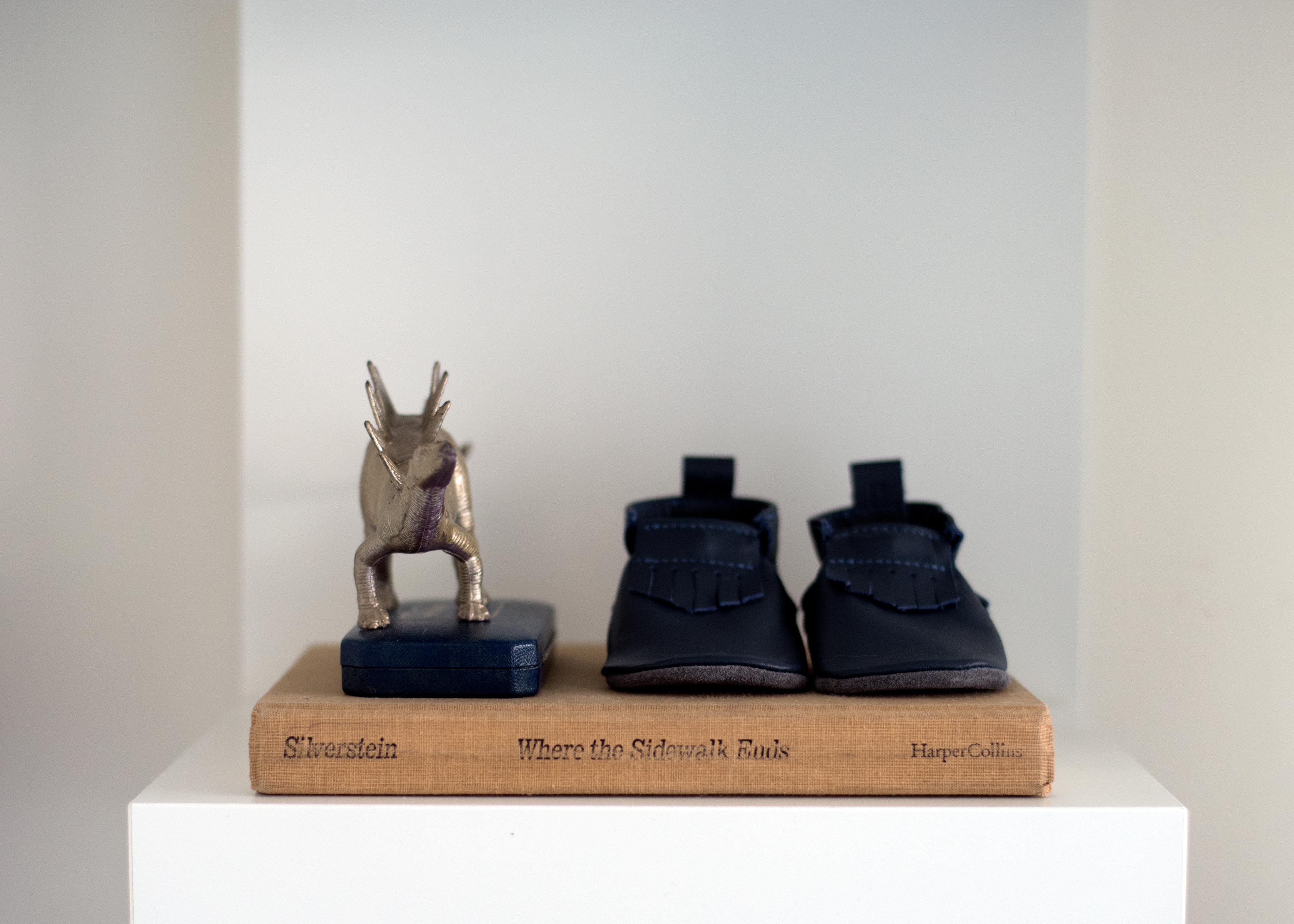 Shoes: Mally Designs, Dino: DIY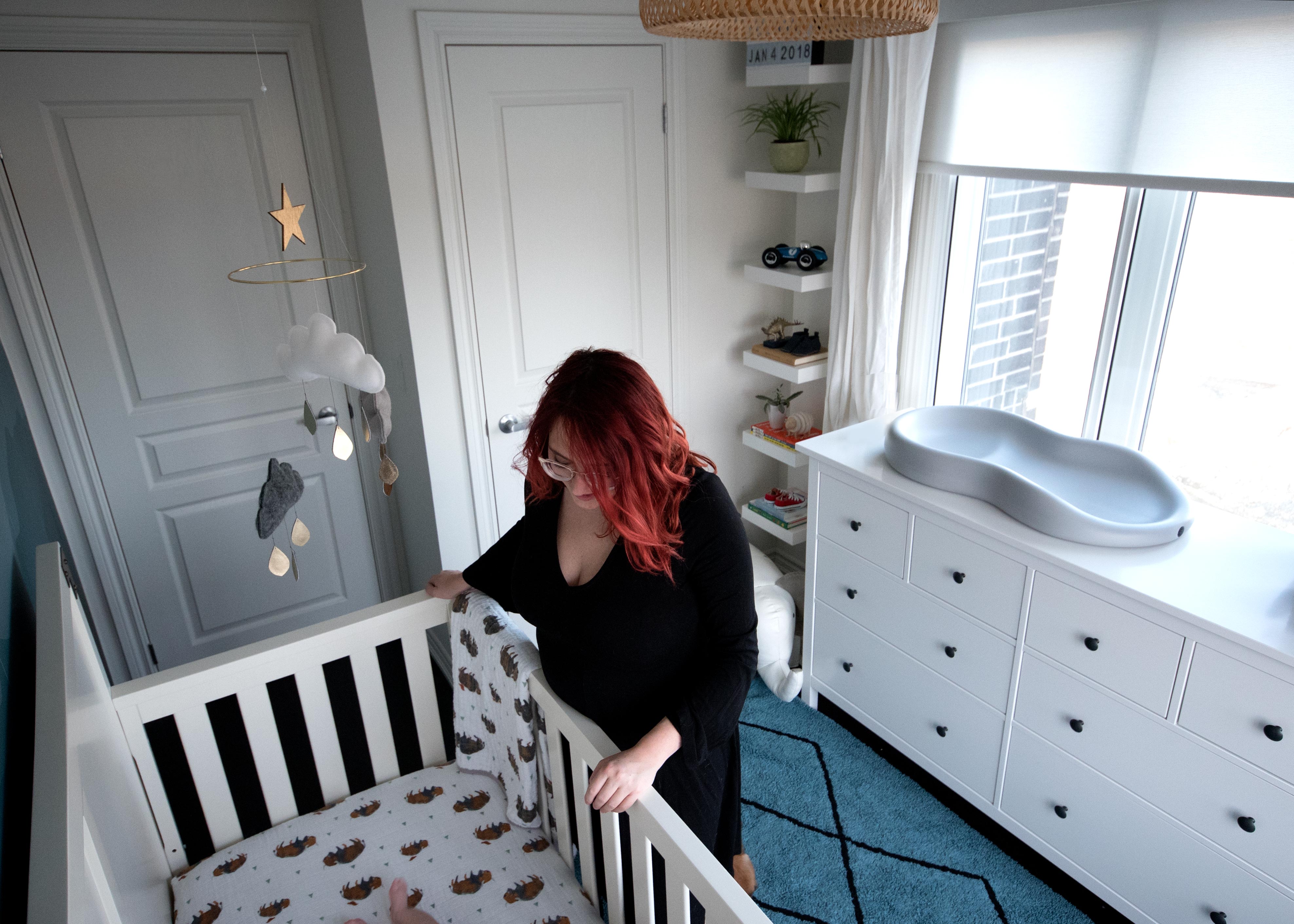 I am absolutely in love with our nursery and I hope Sterling will love it too. Check out the other room reveals in our home: Kitchen & Living Room.
I received products compliments of and/or in collaboration with West Coast Kids, Rocky Mountain Decals, The Butter Flying, but all opinions are 100% my own. If you are interested in working together in please contact me (barbara.ann.solomon@gmail.com) or Krista at Shine Influencers (krista@shineinfluencers.com).